"Felt like I was there even though I never went to Jewish kid camp in Sconi. I found myself wishing I had a highlighter to mark a few of the many sublime phrases that delighted me with a nod of recognition and smile of amusement from the cleverness. The characters felt real and absurd beyond belief at other times which I found engaging." --Amazon review
"The book is a fun read, with strikingly thoughtful, poetic writing woven throughout. It's even better when you've finished it, and digest it over the next week or so. It's a great addition/update to the canon of literature on the Jewish experience in the US." --Amazon review
"Anyone who has been to Jewish summer camp, or ever wondered what the hell it's all about, will love this book. It starts off as a very true-to-Jewish-life-in-the-(somewhat)-supervised-wilderness tale, but then takes a mysterious turn toward noir when a very rich camper goes missing and our narrator is determined to follow the clues to find her. As with Mark Swartz's other novels, the writing is both funny and erudite, the characters quirky and unique.

" --Amazon review
Instant Karma.
Novel published by City Lights, San Francisco, Oct. 2002
"Adept at deadpan humor and fluent in high-tone irony, Swartz guides his misanthropic diarist and pseudo-Talmudic scholar to the works of a mishmash of tantalizing thinkers."
—The Chicago Tribune

"A first novel of remarkable compression, lithe satirical humor, impressive intellectual dimension, and sly provocation."
—Booklist

"Mark Swartz has written a remarkable book. Instant Karma is a quick, bright thing that is sort of hilarious, always amusing, somewhat edgy, thoroughly wry, and genuinely touching."
—Frederick Barthelme (
Painted Desert
)
"
Instant Karma
is irresistible from beginning to end. To make this original treatment of a complex and indeed zany subject so consistently entertaining is proof of a new and prodigious talent."
—Harry Mathews (
Cigarettes; The Oulipo Compendium
)
"Imagine a collaboration between David Sedaris and David Foster Wallace on a book about the interrelationship of art and anarchy . . . . What you end up with is Mark Swartz's weird but wonderful Instant Karma."
—Washington City Paper
"An obsessive read about an obsessive reader, Mark Swartz's Instant Karma is a book with the sort of power that makes you remember the sort of power books have."
—Daniel Handler, author of Watch Your Mouth and The Basic Eight

"This novella proves that too much reading can cause a shy boy to use explosives. The attenuated Young Werther here, direct heir to all the neurasthenic adolescents in literature, updates himself with late twentieth-century books, but stays in character. Nice satire, useful common reader."—Andrei Codrescu
" Welcome to the oddball world of David Felsenstein, a Chicago loner who's part Young Werther, part Travis Bickle and part post-adolescent Borges... a kind of Dewey Decimal tribute to Paul Auster's Leviathan."
—The Los Angeles Times

H

2

O.
Novel published by Soft Skull, Brooklyn, Oct. 2006
"Swartz's shrewd, jittery, and noirishly atmospheric speculative tale about a bumbling antihero and dire environmental trauma brings an irreverent and parrying voice to ecofiction and casts a fractured light on follies petty and catastrophic."
"A deft vision of America's postindustrial future in the stylized guise of noir fiction.... At once fantastic and eerily plausible.... [Shivers's] insights and unique vision not only are clever and entertaining but offer thought-provoking commentary on America's current social and cultural malaise."
"Mark Swartz's second novel, the noirish eco-satire
H

2

O
, makes Davis Guggenheim's film
An Inconvenient Truth
look like a feel-good summer romance… [
H2O
is] a fast, fun, ominous read."
"A short, sharp shock--a jab to the eyeball and brain,
H

2

O
by Mark Swartz is as telling commentary on our society now as Don DeLillo's
White Noise
was in its time. Savagely precise, clever but not shallow, Swartz's writing lacerates even as it's deeply, disturbingly funny."
—Jeff VanderMeer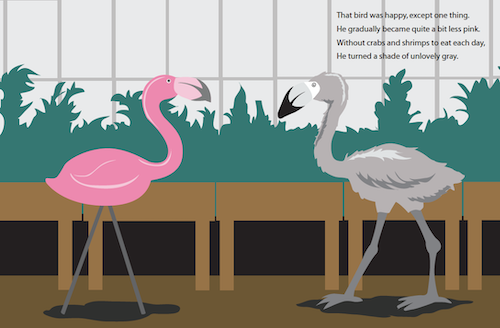 Lost Flamingo,
story by Mark Swartz based on an episode in Ian Frazier's nonfiction classic
Travels in Siberia.
Illustrations by Art Hondros.
"The Giant of the Flood."
Story by Mark Swartz. Illustrations by Dandan Luo. Adapted from Jewish Fairy Tales and Legends, by Aunt Naomi (pseud. Gertrude Landa), [1919]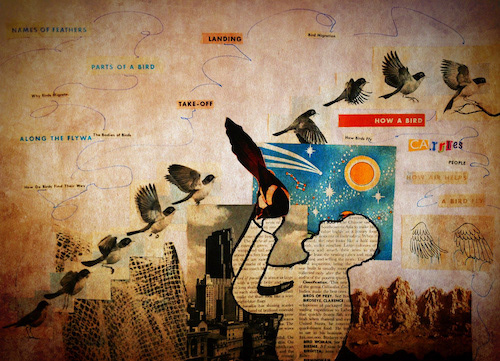 "Magpie Bridge."
Adapted from the Chinese Fairy Tale 'Cowherd and Weaving Girl'. Illustrations by Dandan Luo. Book design by Janet Hume.